An interesting and easy salad for hot summer days!
Enjoy this grilled food and chew it carefully. This food can be stored in a container with a lid in the refrigerator for several days with this recipe.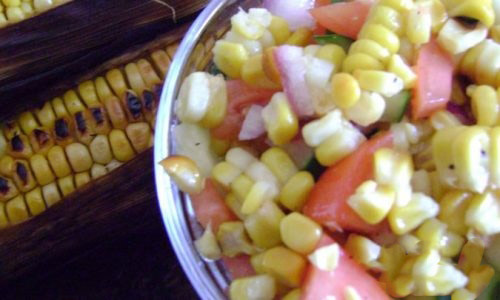 Fresh corn, peeled 6 pcs
Chopped tomatoes 2 pcs
Freshly chopped coriander to taste ½ batches
Salt and black pepper as needed
Chopped green pepper 1 pc
Chopped red onion ¼ cup
Olive oil 2 tea spoon
Preheat the grill outdoors to medium heat, lightly grease the grill.
Cook the corn on a preheated oven, turning them occasionally, until the corn is soft and black spots appear on it, about 10 minutes is enough to do this, until they are slightly cooled. Put them aside so you can touch them. Peel a squash, grate it and squeeze the juice.
Combine corn kernels with green peppers, tomatoes, onions, coriander and olive oil. Season with salt and pepper, mix well. Set aside for at least 30 minutes to combine the flavors before serving.
Tip: Aluminum foil helps keep food moist, evenly cook, keep food fresh, and easy to clean.
Medical site and health magazine im healthiest