Over time, with the advancement of medical science, different ways have been found to help pregnant mothers and in some cases save their lives, but the most important advancement in this area is surgical methods to terminate pregnancies in which the mother's life Or the fetus is at risk.
The history of cesarean section dates back to BC. Problems that used to cost the mother's life, today end with the least harm to the mother, and if necessary, it can be done next time, but contrary to popular belief, this is the best way to give birth to children. is not. Natural childbirth, with its fewer complications, is the superior method.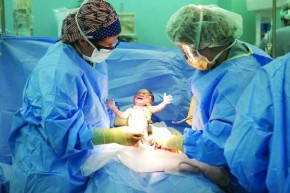 According to studies, deliveries performed by cesarean section are twice as likely to have complications as normal deliveries, and the most important complications that occur are infections of the uterus and surgical site, opening of the surgical site, bleeding and blood clots in the arteries. And finally death.
For every 100,000 people who have a cesarean section, two die from complications of surgery, and this is especially important.
On the other hand, in normal delivery after delivery, there is less pain and infection and as a result, the mother returns to normal faster; Therefore, the mother starts moving and exercising earlier and returns to pre-pregnancy weight sooner.
Many mothers who become pregnant for the first time resort to cesarean section for fear of labor pains, unaware that they have to endure a lot of pain after the operation, and each time a cesarean section results in adhesions in the abdomen. Which eventually causes prolonged chronic pain in later years. Pain for which there is no definitive cure.
Some people seek cesarean section due to the increased risk of uterine and bladder prolapse after normal delivery, while the method of delivery is not necessary and sufficient to cause prolapse, but the number of pregnancies and fetal weight at birth is more important.
On the other hand, those who have had a cesarean section also suffer from sagging and loosening of the tissues inside the vagina, even in cases where those who have never been pregnant, can get this disease, and the genetic background plays an important role in this.
Problems with urinary or fecal control following a normal delivery are more likely than a cesarean section, but the risk of damage to the bladder or ureters during a cesarean section is higher than a normal delivery.
Due to the existence of painless delivery methods, the fear of pain during normal delivery is no longer a case; Therefore, it is undoubtedly the best method of delivery for mother and baby, and this method is recommended for all mothers.
Medical site and health magazine im healthiest